Rishi Sunak announced yesterday a number of measures to address the government's self-made asylum backlog. The tone of Sunak's statement was more measured than the sometimes rather unhinged rhetoric to which we have become accustomed, although he still introduced the topic as being about "illegal immigration". There were no attacks on lawyers, for example. Or tofu. In that respect, it is welcome. The details of the new new plan for asylum do not seem likely to deliver, though, and the repeated singling out of Albanians is a very worrying development.
Morality not impact
Sunak began by saying that "any solution should be not just what works but what is right". This is an interesting yardstick by which to measure government policy. It suggests that a policy which fails to achieve its purpose might still be 'correct' in some way.
This is surely a reference to the Rwanda plan and other recent measures, which no-one now seems to think will actually deter people from coming to the United Kingdom. It can also be read as a reference to the hostile environment suite of laws. These have had no discernible impact on immigration. Indeed, voluntary departures actually fell considerably from 2016 onwards. But some consider it morally right to deny services to migrants, even if that just has the effect of leaving them destitute and vulnerable within our borders and it increases race discrimination against not just migrants but also black Britons.
On that note, Sunak is reviving not cancelling the hostile environment. Whatever happened to the review of hostile environment laws that one of our recent governments promised in response to the Windrush lessons learned report? The number of workplace raids will be doubled and immigration checks on existing bank accounts will be restarted, after they were suspended by Sajid Javid when he was Home Secretary because of the Windrush scandal.
Restarting these bank checks is very concerning given the faults in Home Office data; banks have to check existing accounts against this data and shut down accounts with no notice. Imagine: you cannot make payments of any sort, you cannot buy food to eat, you cannot travel, you cannot pay your rent. You cannot pay a lawyer. You cannot receive payments either. This is what happened to the victims of the Windrush scandal, although back then it was often a slow squeeze effect not a sudden cataclysm like this. There is essentially no remedy if this happens to you: you cannot get the bank to change the Home Office data, and getting the Home Office to do it will take weeks or months if ever.
The chances of these measures reducing small boat crossings are zero, yet Sunak considers this the right thing to do on a moral level.
Clearing the backlog
The most notable feature of the statement was Sunak's pledge to clear the asylum backlog by the end of 2023. This is a bold commitment given that the waiting list for decisions is currently still growing — fewer decisions are still being made than new claims for asylum — and it already stands at 117,400 cases (relating to 143,377 people). This looks like a massive hostage to fortune, and the more we look at what Sunak is suggesting the more unwise his promise looks.
To get the backlog down to 20,000 cases or so, the average level during most of the 2010s, would mean making about 8,000 decisions per month. Only 16,400 decisions were made in the year ended September 2022. Given nowhere near 8,000 decisions per month are being made at the moment, and it will take time to reach that, in reality Sunak's pledge would mean making far, far more decisions than that per month towards the end of the 2023.
The number of asylum caseworkers will apparently be doubled again from its current level of 1,200 officials (see Sunak's later answer to Diana Johnson). It was already announced by Braverman at the Home Affairs Select Committee a few weeks ago that her department was hoping to have 1,300 asylum caseworkers in place by March 2023, over double the number in 2021. Recruiting and retaining 2,400 asylum caseworkers would be a truly massive increase in staffing. Frankly, it is hard to see how this could happen by the end of 2023, and it seems very unlikely to happen in time to meet Sunak's commitment to clear the backlog by then. And then what will happen to all the caseworkers afterwards?
Asylum processes and guidance are being reworked. Specialisation by nationality will will be introduced and the number of interviews and amount of paperwork will be reduced. Sunak ruled out a "blanket amnesty". That still leaves scope for a targeted one, which looks like the only realistic way to meet the backlog promise. Perhaps, once more decisions are eventually being made than asylum claims, we will see further announcements on this front.
Déjà vu
A new new small boats "command" will be established. I'm not clear how this is different to Commander Dan, the Clandestine Channel Threat Commander appointed by Priti Patel Mohave "the primary responsibility of making the Channel route unviable for small boat crossings".
It is "appalling", Sunak said, that the government is now spending £5.5 million per day on hotels to house asylum seekers. Everyone can agree with that. It's because of the slow-down in Home Office decision-making, of course, which is due to poor management and the delays deliberately introduced by the government's own 'inadmissibility' procedure. Disused holiday camps, student accommodation and former military sites will apparently be used instead, and locations with capacity to house 10,000 people have apparently been identified. The other 133,377 people (and rising) will presumably continue under the current arrangements.
The Rwanda plan continues to rumble on but no new announcements were made on that. There were no new deals with new countries announced, for example. The outcome of the first stage of the legal challenge is expected next week, incidentally, so watch this space.
After twelve years of Conservative government and three major Acts of Parliament, each of which was supposed to establish a new regime, there is apparently yet further need for reform. New legislation was promised "early next year" to make it "unambiguously clear" that if you enter illegally, you will not be allowed to settle in the UK. Late claims and appeals will be prevented, allegedly, and those who are removed will be barred from re-entering. All this is either already law (re-entry bans, for example) or was promised by the Nationality and Borders Act, which became law earlier this year. Personally, I find it hard to take this seriously now, but I recognise that may be a mistake on my part.
Albanians
I am sure I am not alone in getting increasingly uncomfortable about the way that Albanians are being singled out repeatedly by the government. They have become the national kicking post. The impact on Albanians living in the UK is likely to be extremely uncomfortable. I cannot imagine other national groups being singled out in this way, although I suppose we've seen similar slightly less sustained and high level attacks on Romanians and Bulgarians.
A new "dedicated unit" devoted to Albanian claims is being set up with 400 staff. New guidance will be issued to caseworkers to make it "crystal clear" that Albania is a safe country. A new expedited process of some sort is planned in order to decide Albanian cases in weeks rather than months. Or years, as things currently stand. Details were not announced but it does not sound like a detained fast track.
A new agreement with Albania has been reached which will involve immigration officers operating in Tirana, Sunak says (text here). It is not clear what they will be doing there given Albanians are actually arriving via the Channel, not on direct flights. The agreement reaffirms UK and Albanian commitment to the international trafficking agreements and to the European Convention on Human Rights. It also commits the UK to supporting the Albanian government's efforts to assist trafficking victims, although it is silent on whether that involves any new money.
On trafficking, objective evidence of modern slavery will allegedly be required. It is hard to imagine what this really means in practice given that there is very rarely going to be any "objective" or independent third party evidence of this sort of crime. It would be like police officers turning a blind eye to domestic violence because the perpetrator denies it. I imagine this line comes from Sunak's speechwriter beefing up some intended tweak to guidance to caseworkers.
These measures will lead to the "vast majority" of Albanian asylum claims being declared clearly unfounded. Sunak pledged to return "thousands" of Albanians over the "coming months" with weekly flights "until all the Albanians in our backlog have been removed". This is another bold commitment, given that there are currently 22,908 Albanians currently awaiting an initial decision and a total of 175 Albanians were removed in the period April, May and June 2022. At the current rate, even if they were all refused asylum, it would take thirty years to fulfil Sunak's commitment.
Half of Albanian asylum claims for the cohort that arrived in previous years were actually granted over the last year, and yet more will have won on appeal. There clearly are some genuine refugees and victims of modern slavery arriving here from Albania and this focus on refusal and removal is likely to be self-fulfilling, leading to some genuine refugees and trafficking victims being returned to face serious harm.
Massively increasing removals, massively increasing decision-making, doubling workplace enforcement visits (admittedly at a very low level right now), and ploughing resources into Rwanda removals all seems quite a lot for a dysfunctional department.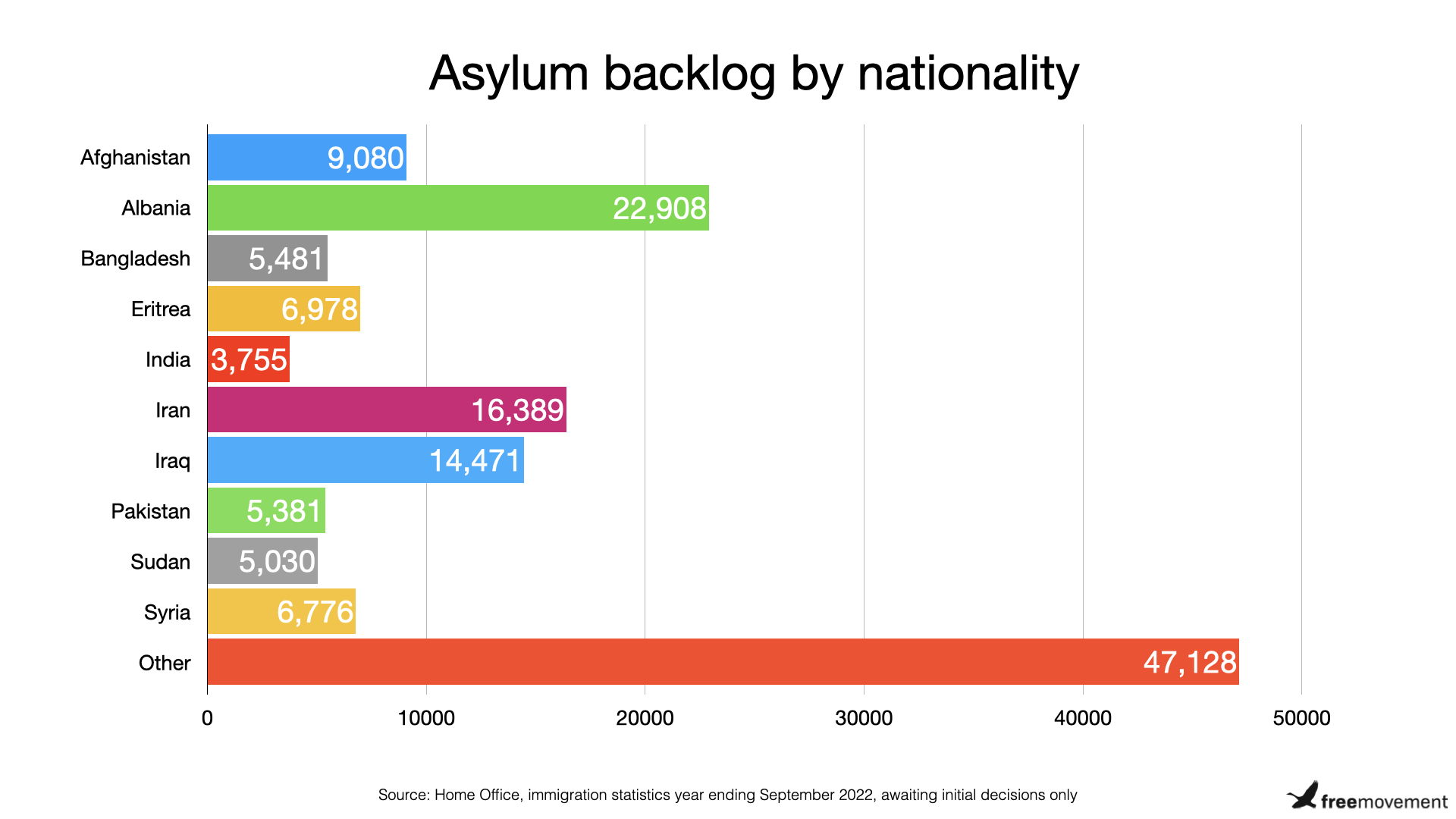 Notably, there was a marked difference between the announcements and the briefing to The Times yesterday, which ran an article suggesting asylum claims by Albanians would be completely barred.
Will it work?
There was little in the way of headline-grabbing radical measures but quite a lot of detail on how the government intends to address the asylum backlog. Details and quiet competence is surely what is needed.
But the measures announced by Sunak do not seem capable of by themselves meeting his pledge to clear the asylum backlog by the end of 2023, or even get it down to around 20,000 cases or so. There was no detail on how removals would be so dramatically increased. Both of these tasks are monumental given the place the Home Office is in right now. The planned staffing increase sounds impressive but will be very hard to achieve in time. Sunak seemed to rule out an amnesty, although he perhaps chose his words carefully there. A highly accelerated asylum process for nationalities very likely to be granted asylum — Afghans, Eritreans, Iranians and Syrians, for example — could clear over 30% of the backlog very quickly.
Yesterday's announcements do not, by themselves, seem likely to deliver on Sunak's two key pledges.