HEX threatens to implode as creator Richard Heart faces fraud accusations
Over the past 24 hours, the ether-based token HEX has taken a steep nosedive, trading at $0.02 at the time of writing. As creator Richard Heart battles allegations of fraud, the sun could be setting on the HEX universe.
Heavy HEX criticism
HEX was launched in 2019. Since the token dawned on the crypto scene, shrugging off the "Ponzi scheme" trait has been close to impossible. Crypto analysts were even questioning how its market cap surged to almost $1B in mid-2022, yet the coin seemingly remained "unnoticed" by the crypto market.
"In crypto, there's a tribalism that every coin you buy is a world-changing amazing thing. Every coin anyone else buys is a scam by default."

Richard Heat, CEO of HEX 
In the last 24 hours, HEX investors have seen the token's market capitalization drop from $3.9B to $3.7B. Its price lost 3.5%, at the time of writing.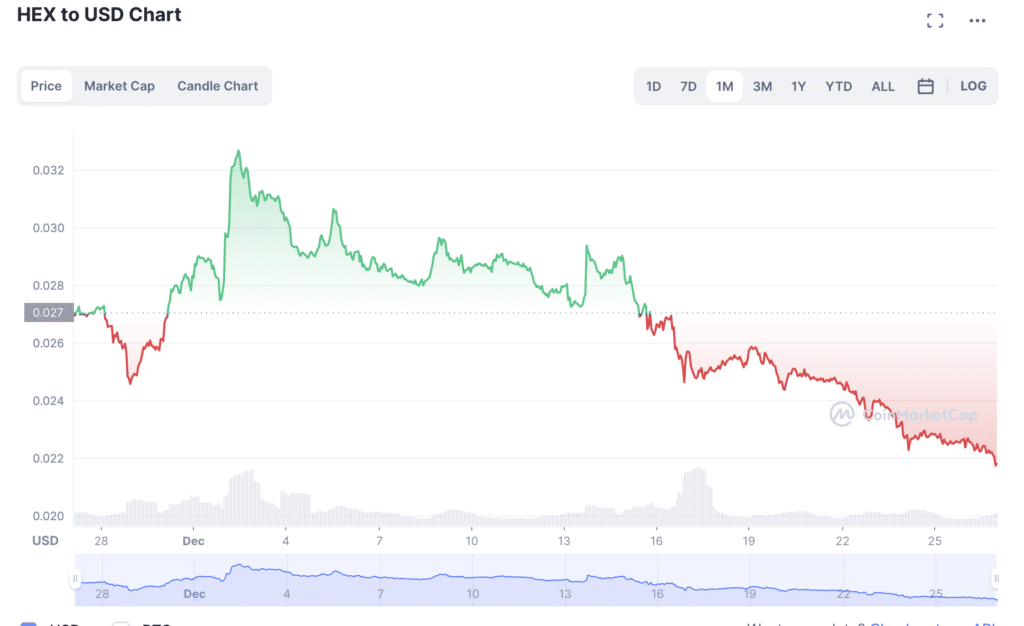 Mike Alfred, a crypto enthusiast, noted that the project was self-destructing after he received news that PulseChain was not going to launch
The PulseChain pipe dream
PulseChain is the other "pipedream" that has been massively sold to the HEX community. Initially, PulseChain was to be this fast and cheaper ethereum competitor but now remains to be a fork. The PulseChain team has also announced an airdrop for all ETH holders after the fork is successful.
PulseChain has been through numerous testnets throughout 2021, all of which gave hope to the HEX community of a future reward.
HEX, PulseChain and PulseX combined is a $5 billion project, which could be catastrophic to the market if (or when) it implodes. The fact that crypto influencers promoting HEX were slapped with subpoenas by the U.S. Securities and Exchange Commission (SEC) does not ease the tension among investors.
Grounds for crypto regulations?
The events of an unlikely bankruptcy announcement from FTX and conspiracy theories that SBF was a government agent sent and funded to infiltrate the crypto sphere have left many aghast. Some crypto enthusiasts believe the SEC orchestrated the FTX saga to get 'legitimate' reasons to regulate crypto. 
While they might, to some extent, prove to be true, the existence of privacy coins like Monero could prove to be a hurdle for the SEC.  
Follow Us on Google News

#HEX #threatens #implode #creator #Richard #Heart #faces #fraud #accusations