Whales make sudden multi-million dollar moves on Lido DAO, Illuvium and Holo
Data shows that three whales have made sudden moves on three different and rarely seen platforms — Lido DAO (LDO), Illuvium (ILV), and Holo (HOT) — despite the downtrend in the broader crypto ecosystem.
According to the market intelligence platform Santiment, these sudden moves usually show that investors "may not be paying attention to" some smaller altcoins that might potentially rise. The insights show that all three of these transactions were sent by/to non-exchange wallets.
Moreover, the largest altcoin transaction, per Santiment's data, belongs to the LDO token, worth roughly $36.4 million. The move comes as the LDO supply on exchanges has been plunging since May 9, and currently sits below 6%.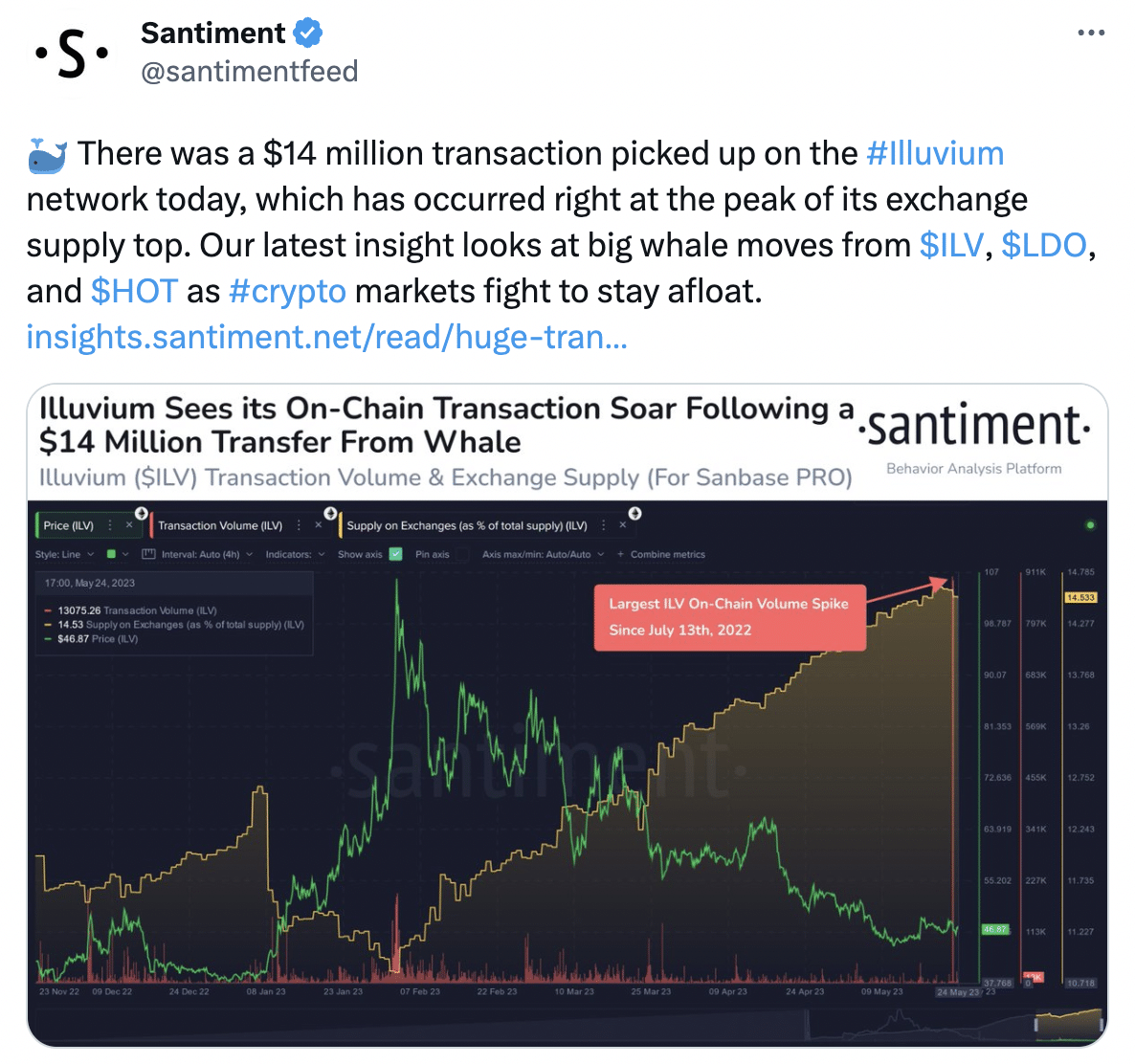 As the major transaction comes in, LDO's price has also shown bullish momentum. The asset is up by 3.75% in the past 24 hours, trading at $2.04 at the time of writing. LDO's 24-hour trading volume has also risen by 81% and currently sits above the $70 million mark.
Furthermore, the second-largest transaction occurred on the Illuvium network — around 297,500 tokens worth roughly $14 million. According to Santiment's data, ILV's price has consistently dropped from $106 in February to $47.
The market intelligence platform believes that ILV might have reached its bottom line as "the on-chain transaction volume for the ILV network has skyrocketed."
Last but not least, the third-largest transaction belongs to the peer-to-peer (P2P) Holo network's native token, HOT. Per Santiment, a whale has moved a whopping $12.7 million worth of HOT coins.
Unlike the ILV token, this is not the first significant whale move for the Holo network, as there have been, according to Santiment, many similar transactions.
Follow Us on Google News
#Whales #sudden #multimillion #dollar #moves #Lido #DAO #Illuvium #Holo